On-premises installation
The on-premises installation is a standalone version of Structurizr that can be run locally on your own servers, providing all of the major features needed to visualise, document and explore your software architecture.
A demo of the on-premises installation can be found at https://onpremises-demo.structurizr.com - please note that this installation is for demo purposes only, all data is publicly accessible and will be regularly deleted without notice. You can sign in with structurizr/password.
An error message saying "404 Not Found: Requested route ('onpremises-demo.structurizr.com') does not exist.", probably means that a new version is being deployed. Please try again in a couple of minutes.
Download
The on-premises installation is available to download from your dashboard using the On-premises downloads link. Please note that you must have already purchased a license for the on-premises installation or activated the free one-month trial.
Deployment
The on-premises installation is a Java EE web application, packaged as a .war file for deployment into any compatible Java EE server such as Apache Tomcat. Here are some basic instructions that assume you are using a freshly downloaded version of Apache Tomcat. In the instructions that follow, TOMCAT_HOME refers to the location of the Apache Tomcat installation.
Pre-requisites
On-premises installation
After downloading the on-premises installation, copy the structurizr-onpremises-ui.war file to TOMCAT_HOME/webapps/ROOT.war. The on-premises installation must be installed as the root web application. Delete the existing ROOT directory if it exists. You then need to add some configuration information. To do this, create a file called ROOT.xml in the TOMCAT_HOME/conf/Catalina/localhost directory with the following content (replacing ... with your license key).
<Context>
    <Environment name="structurizr/dataDirectory" value="/usr/local/structurizr" type="java.lang.String"/>
    <Environment name="structurizr/license" value="..." type="java.lang.String"/>
</Context>
The parameters being configured in this file are as follows.
structurizr/dataDirectory: The location where Structurizr data will be stored.
structurizr/license: The Structurizr on-premises license key.
structurizr/url: The URL where Structurizr can be accessed (optional; only set this if the Structurizr dashboard is reporting an incorrect URL).
Usage
After starting Apache Tomcat, you should be able to navigate to http://localhost:8080 in your browser.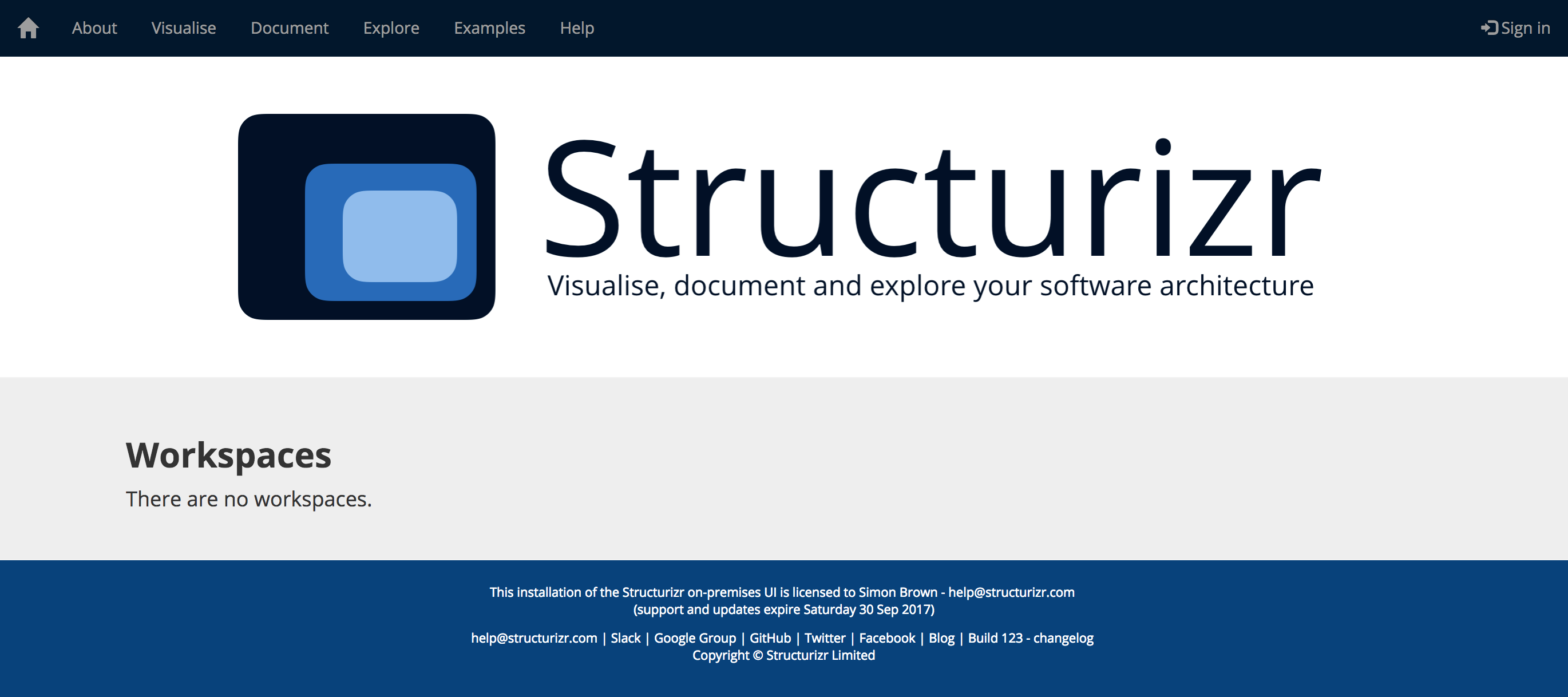 By default, as an anonymous user, you'll have read-only access. To create, delete and modify workspaces, you'll need to be signed in (the default username and password is structurizr and password).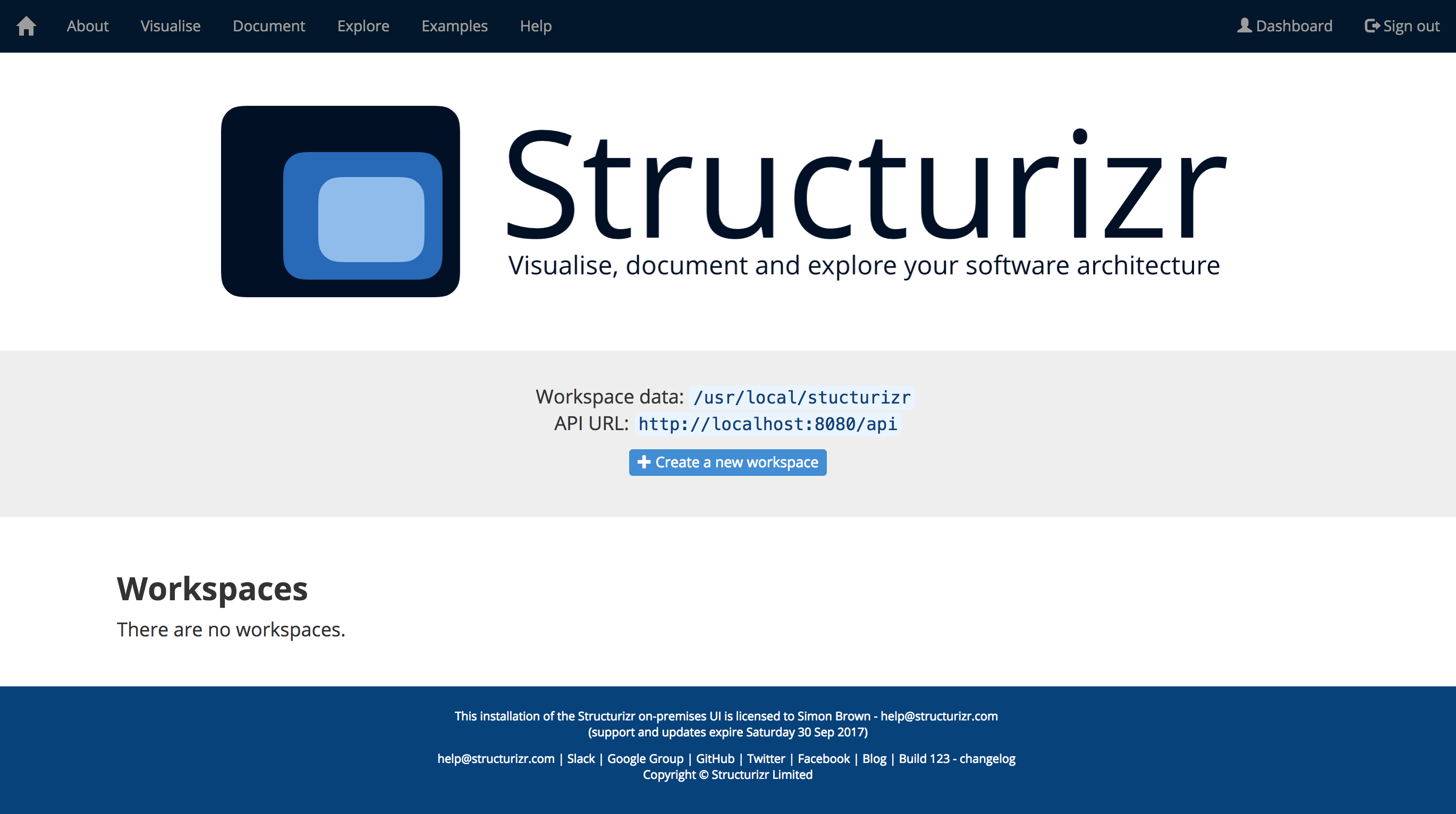 Usage
Using the on-premises installation is much the same as the cloud version. You can create a workspace using the "Create a new workspace" link on the dashboard after signing in, and upload your workspace content using the Structurizr client libraries (Java or C#).
Cloud service vs on-premises installation
The key differences between the cloud service and the on-premises installation are as follows:
Role-based security: The role-based security features have been taken out to simplify deployment, operation and support. Instead, anonymous users (not signed in) have read-only access, while authenticated users (signed in, based upon a simple username/password combination) have read-write access. Security is implemented using Spring Security, and you can customise the security configuration by modifying the WEB-INF/applicationContext-security.xml file.
Updates
The cloud service and on-premises installation share a common codebase, so any updates made to the cloud service are immediately available in the on-premises installation. To update, simply download a new version of the .war file, overwrite the existing version and restart your web/application server.
If you have customised the security configuration, be sure to copy this to the updated installation too.
Pricing and licensing
The on-premises installation is available as a perpetual license, with support and updates included for one year. See the pricing page for more details.